The Wind-Up Stand extends to over 149 inches. Wind up stands have been the definition of strength and safety in the grip industry since their inception. They enable a single operator to raise and lower heavy loads safely with just the turn of a handle. As you crank the handle both risers move simultaneously. A single clockwise revolution of the handle raises the stand 1.73″ (4.4 cm), and a single counter-clockwise revolution will lower the stand by the same amount.
The 3-Section Wind-Up Stand has an automatic self-locking mechanism that prevents the light stand from dropping unexpectedly making the operation safer. The risers have a series of perforations that are engaged by a safety pin. With the auto-lock engaged, the safety pin automatically locks into each successive perforation as you raise the stand. Once the auto-lock is disengaged, an internal spring retracts the safety pin allowing you to lower the stand. The crank handle folds back for travel. It also is designed as a safety measure and can be folded back and placed between two of the tripod's legs. The reason for this is to catch the handle and prevent it from turning, stopping the risers from quickly falling if the lock is unexpectedly disengaged. The tension between the brake shoe and risers is user adjustable, simply with an Allen wrench.
The 3-Section Wind-Up Stand also features a leveling leg that enables the user to extend one leg more than the others to level out the stand on an incline or uneven terrain. The 3-Section Wind-Up Stand comes equipped with a skid-proof foot-step located on the main section of its base to allow the user to stand upon it to reach the top risers and head to make adjustments if necessary.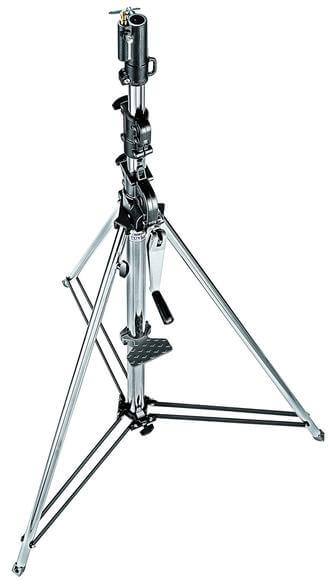 ATOR III stands are manufactured using the latest CAD-CAM techniques, precision laser cutting/machining and CNC machining to ensure accuracy and dependability. The 'core' of the VATOR III stands is the precision rack and pinion gear drive mechanism that reduces components within the drive train to only two moving parts. This ensure years of reliable operation with minimal maintenance.
Matthews has such great confidence in the new VATOR III stands that each stand is covered by a three year warranty under normal operating conditions. Excludes wheels and tires.
From the LoBoy single riser through the Super Vator III, this new family of Matthews heavy-duty lighting stands will certainly set new standards in reliable large fixture lighting support.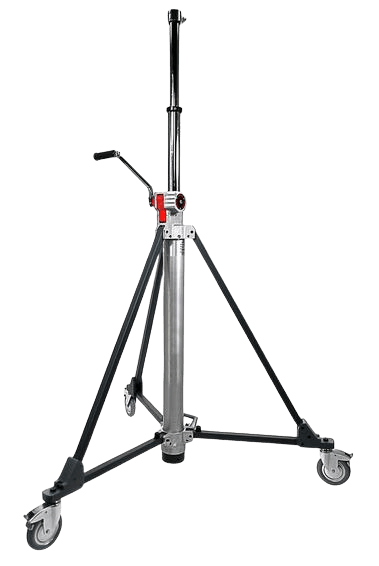 The Sky High Triple Riser Combo Stand – Steel has a wider footprint and longer legs that provide increased stability. Complete with Rocky Mountain Leg and steel construction. Accepts 1-1/8″ Junior spuds or 5/8″ baby receptacles. Available with aluminum risers upon request. Will accept Matthews #366068 Combo Adapter Wheels.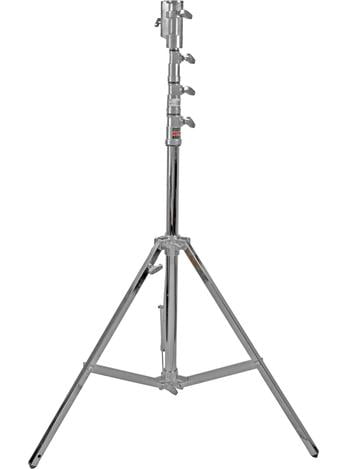 The Stand is a chrome plated steel combo stand with a load capacity of 88.2 lbs (40 Kg). Combo stands get their name because of their unique head design. The Kupo Master Combo HD Stand features the triple function universal combo head with both 1-1/8″ (28mm) and 5/8″ (16mm) receivers plus a multi-direction 5/8″ (16mm) stud, giving you great versatility when it comes to mounting options. The features a leveling leg that enables the user to extend one leg more than the others to level out the stand on an incline or uneven terrain. It also comes in handy on some stairs! Each riser is spring cushioned as a safety feature to protect lighting fixtures from a sudden drop if the locking collar becomes loose. When it comes to strength and flexibility the KS200112 has no equal.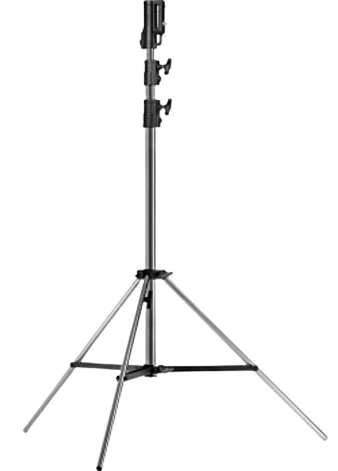 Junior & Senior Stands ラ Designed for larger lighting fixtures these stands are built with steel legs and steel riser assemblies. These stands provide a stable rolling base for Junior and midsize lighting fixtures. Equipped with universal 1 1/8″ Posi-V-Lock female with pop up 5/8″ male receiver. The Senior Stands are made for fixtures weighing up to 88 pounds while the Brace Stand has three additional braces on the center column for increased support of heavier fixtures. Please refer to the technical specification for weight limitations of each stand.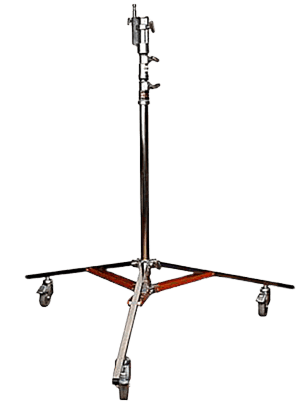 750 Stands​ (Double, triple, lightweight)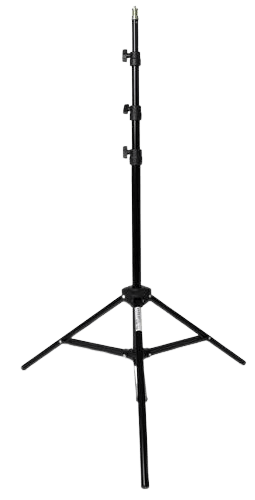 The runaway stand base is a compact but incredibly strong, wheeled base that allows its legs to be folded parallel to one another for easy storage and transportation. It features a junior 1-1/8″ (28mm) receiver to accept a C Stand riser section and take your C Stands mobile, a Stand Adapter (KG006312) for a low mounting position or any piece of grip equipment with a junior pin.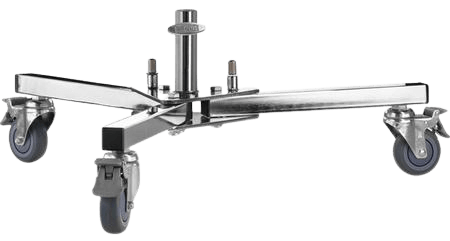 40″ Sliding Leg C-Stand
Matthews C-Stand with Sliding Leg, includes Grip Head and Arm, non-spring loaded base.